Sinorix T227
Fire extinguishing where electronic systems need to be protected
Description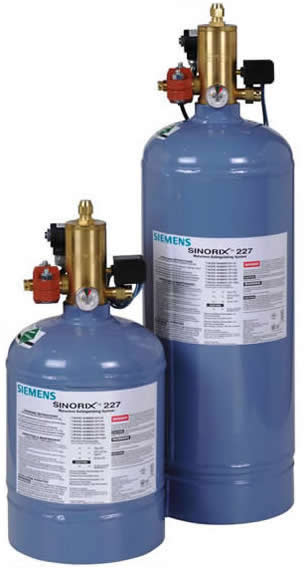 Computer and other electronic systems today represent a considerable asset in every company. And because fires in electronic systems develop slowly, that makes them particularly dangerous. The earlier and more reliably sources of fire are detected, the sooner the fire extinguishing system can go into action. Effective protection of people, buildings, business resources and data depends on how perfectly this chain functions. Siemens offers solutions at the leading edge of technical development for every phase, from detection to intervention.
Detectors from
Siemens
discover sources of fire immediately and in most cases pinpoint them before an open blaze can develop. At the same time the built-in intelligence in the system ensures that the dangers are evaluated correctly in order to avoid production losses due to false alarms.
SinorixT
extinguishing systems make perfect enhancement for fast, foolproof fire detection. In the event of a fire an automatic extinguishing system intervenes instantly, with the result that the fire is extinguished rapidly or smothered in its very early stages.
The
SinorixT
engineered system nozzles are designed to provide rapid and thorough mixing of extinguishing agent with the air in the protected space and to provide coverage for a large area.